2013年1月21日
ワイツー設計の宇井です。
今日の福島県本宮市は、とても寒い日です。
お昼になっても氷が溶けませんし、地表面も凍ったままです。(写真-1)
今日の工事内容は、地盤の補強工事です。
今回の建設予定地は調査の結果、地盤が教会堂の重さを支えることが出来ない敷地でした。
(不動沈下の恐れあり)
そこで、教会堂の重さを支えることができるように、地中に直径約600mm長さ6mの
コンクリートと土を混ぜた円柱状の杭を作り、教会堂の重さを支えることにしました。
(柱状改良)(写真-2・3)
その杭を本宮教会では30本作ります。
設計監理としての仕事は、杭の位置の指定と確認をし、杭の頭のレベル指示をします。
全てはの始まりは、地盤・基礎からなので地味ながらとても大切な工事であり、
それを確認・指示をする設計監理の仕事は重要な仕事です。
この作業は2日間の予定です。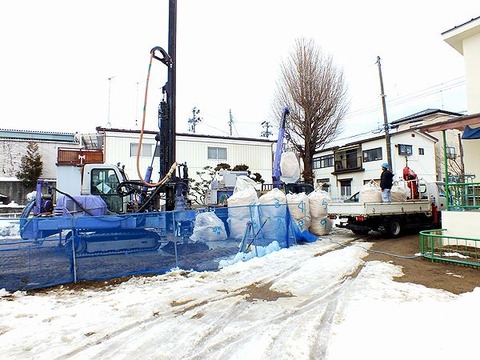 (写真-1)(Photo-1)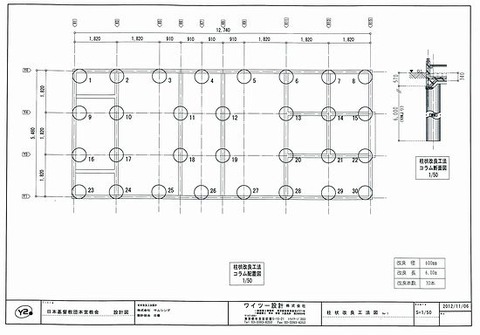 (写真-2)(Photo-2)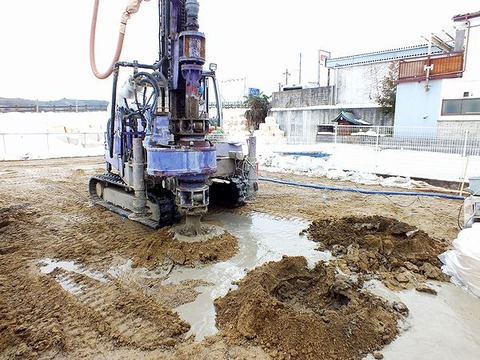 (写真-3)(Photo-3)
January 21st , 2013
Yasunobu Ui from Y two Architectural design company.
It is a freezing day at our new construction site in Motomia city, Fukushima prefecture.

Even with direct sunlight at noon the ice on the ground still rock hard .(Photo-1)
Today's job is reinforcement of foundation for our new project (Motomia Church) as our load bearing ground hardness test results shows that the ground here cannot hold the weight of our planned building and it may sink in future.
For this reason we have decided to go with Pile foundation which is to inject 30 concrete columns of 600mm in diameter with dept of 6000mm into the ground as the pillars of our foundation for Motomia Church building.(Pphoto-2)(Pphoto-3)
Though this is just the beginning of the work and may sound very basic but calculation, design and implementation is the most important part of the whole project and should be done with utmost care and under direct supervision of designer.
We are planning to finish this part in 2 days.
本宮駅から本宮教会・幼稚園へ向かう途中の橋から見える、日本百名山の安達太良山 標高1,700 mです。
(写真-4)
A view taken from the bridge on the road from Motomia station to the Motomia church construction site and Motomia preschool building, famous Mount Adatara with altitude of 1700meter can be seen in the background.
(Photo-4)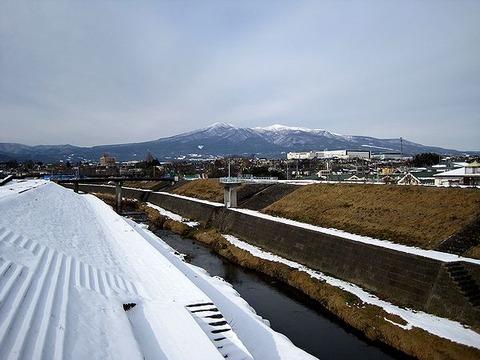 (写真-4)(Photo-4)