2013年3月8日
ワイツー設計の宇井です。
上棟式は午後からなので、それまで垂木の取り付け作業をします。
棟木と垂木で屋根を構成しますので、垂木も大きいです。
これを約30Cm間隔で取り付けていきます。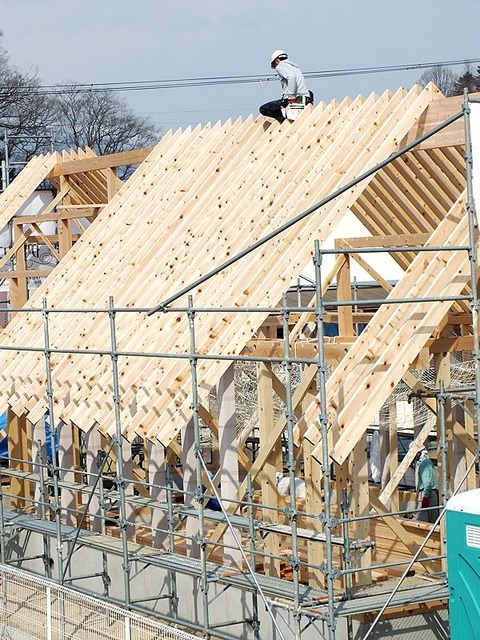 (Photo-1)
上棟式の礼拝の始まりです。
園児達の可愛い歌声の賛美歌から始まりました。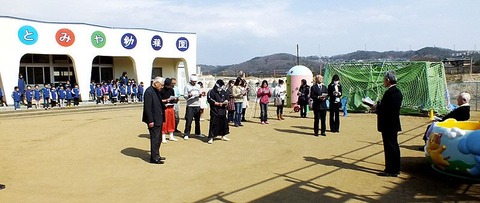 (Photo-2)
祈りを捧げる、安井牧師、菊地牧師園長の両氏。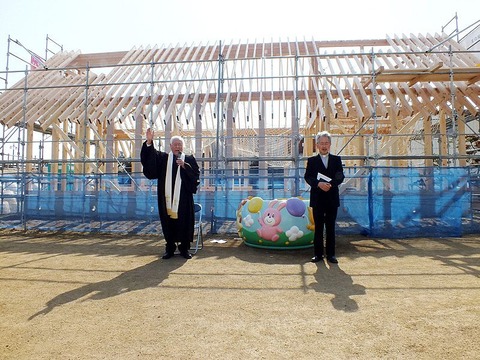 (Photo-3)
園児お待ちかねの、上棟の菓子まき!
大工さん鳶さんがお菓子を撒きます。
みんな!いくつひろえたかな?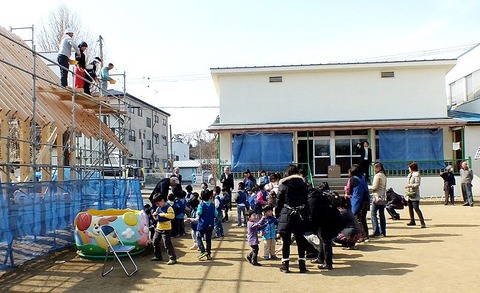 (Photo-4)
March 8th,2013
Yasunobu Ui from Y two Architectural design company.
It composes a roof with the ridgepole and the rafter.
The rafter is big.
It installs in the 30 C・m interval.
(Photo-1)
It is the beginning in worship to celebrate a completion of framework.
It began with the hymn of the nursery school children.
(Photo-2)
Yasui clergyman, Kikuchi clergyman pray.
(Photo-3)
It distributes confectionery from the top of the beam to celebrate a completion
of framework.

The carpenter, the kite scatter a snack.
(Photo-4)